Central to the religious life of the school is the person of Jesus Christ who came among us 'as one who serves' (Luke 22.27). Our Catholic school is committed to reaching out to help those in need, through charitable outreach initiatives. All outreach activities connect to the person of Jesus Christ and to the sacraments, especially the Eucharist. Drawing on the Catholic Social Teaching of the Church, we have a deep commitment to supporting a range of charitable organisations, families and individuals in need.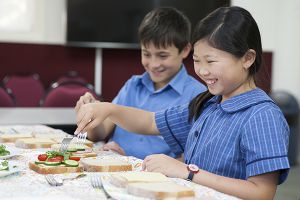 At Our Lady of the Rosary Catholic Primary School Kensington, we believe that everyone has the right to be treated with dignity and respect. This message is communicated through our daily interactions and a wide range of service and outreach programs.
We have an ongoing partnership with our sister school St Patrick's on Yule Island in Papua New Guinea. Our connection with St Patrick's has encouraged a 'global' understanding and appreciation of the dignity of the human person through tangible interactions with real people. This major undertaking is in addition to the many other projects, including St Vincent de Paul, Gethsemane, Caritas, Catholic Care and Mission Australia. Our parents and families are renowned for their generosity.